January 23, 2014 The Matanzas Hop-on Hop-off bus tour
Posted on by

We finished breakfast and headed down to First Ave to get to the Matanzas Bus tour stop. The bus was a bit late and we ended up talking to a retired guy that had been coming to Varadero for years. He comes several times a year. It was interesting to hear his comments on Cuba over the years. This year we met quite a few people who have been coming to Cuba for many years and treat it a lot like people treat Florida or Arizona. It's an interesting idea.
The first stop was Cuevas de Bellamar. I love caves but we were keen on seeing Matanzas and wanted lots of time there. Next time we come I'll try to get a cave tour. We spent the rest of the day walking around seeing closed buildings, churches closed, theatre closed, museums closed. Matanzas is still an old city and lots of neat stuff to see.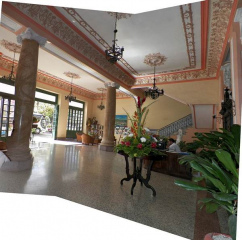 The bar at the tourist hotel was good for coffee and pictures. Very pretty and only 60 CUC a night, not bad. We met a guy from Estonia. He fended off the molesters and we took him to the hop-on hop-off bus stop and then to the Hotel for a drink. There were a bunch of fisherman on the bus on the way out. They came back without any of the fishing gear or the baseball bats that they came on the bus with. The driver dropped us back at 23rd rather than 13th where he picked us up.
Pepe was home and not working so we had supper at the casa, lobster tails and shrimp. The best warm water lobster tails we have had anywhere in the Caribbean. The seafood palenta that came with it was spectacular as well. We packed and went to bed early an alarm set for 6.
I've created a photo gallery that contains a lot more photos than are included in this post so if you want to see more photos in the 2014 Cuba trip photo Album
If you are interested in contacting Elisa and Pepe for a possible stay here is their card. Internet is expensive for them and they don't do it very often, once every couple weeks is not uncommon. Phone calls work well but they are international calls so 011 the numbers on this card

If you want to use the link for a booking service (which costs them money) Link on BnBVinalies
You can't reserve by Trip advisor but here is their information Trip advisor link for Elisa and Pepe