January 27 2014 Cienfuegos lay day.
Posted on by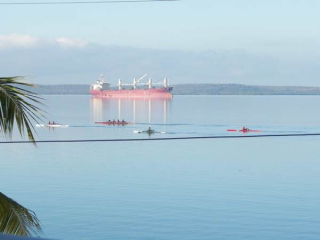 Another night of Night club and revelers. Bonnie was tired and so was I, we decided on a lay day. We watched the 1, 2, 4, and 8 person rowing teams and had an extra cup of coffee. This casa is much more like a hotel and has much more of a hotel feel than any casa we have ever stayed at. The extra coffee wasn't treated as a refill but as two cups of coffee. My level of annoyance is rising with my lack of sleep due to the nightclub not far away.
We walked to the park at the end of Punta Gorda. We had a mojito on the rooftop of Palacio de Valle and it was a good mojito but not the best we have had.


We went to the Hamburgers at the small hamburger joint across the street. A hamburger was 1.25 CUC, 1.50 with ham and cheese, 0.25 for a Cafe Americano. We took our hamburgers to the little cafe behind the joint, (they said it was ok) and watched the bay. It was like a mirror. Only thing is we have to tell them to cook it well done, it was almost raw. 0.70 for a 1.5 litre bottle of water. Excellent prices and the coffee is excellent. We walked back to the casa and sat on the porch until the sun moved us off and we went inside for a siesta.

We went to supper at the Cafe Paris Bar. Curry chicken was good, the pork was a bit tough. The pork had a cinnamon pineapple sauce and was very good. Veg and rice was good. Water and 2 mojitos and two suppers for 20 CUC.
There are about 20 pictures from this day in the gallery, just click here to see the gallery